This is not the post that I had planned to write for today's 31 Days of Everything Home, but while I was browsing Instagram and other blogs this morning, this quote below from 'Incourage' stood out to me. It's been playing on my mind for the whole day.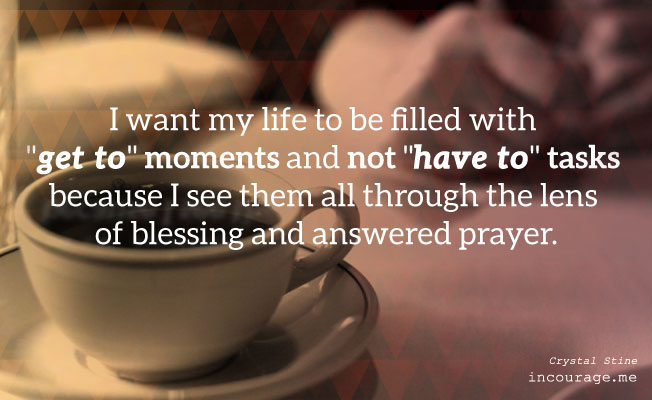 As Christian wives, Mothers and Homemakers, we truly desire to live lives of genuine gratitude to God; setting the example for all those who look to us for guidance and encouragement. But it's not always easy.
Stresses of the day; external circumstances beyond our control; eyes that sometimes covet the next persons lifestyle; lack of sleep; sickness; lack of finances; marital conflict; greed and selfishness; continual children's squabbling. I could go on. So many distractions to rob our souls of the peace and contentment that is ours in Christ.
Perspective. The words above, to me, remind me about the importance of perspective. How I see my life. How I see myself, my marriage, my children, my home, my Church family, my ministry - everything in my life. Do I begrudgingly give of myself to these relationships and opportunities, feeling robbed of 'me'? Or, do I see it all as so many beautiful blessings that I 'get to' enjoy each and every day? Some as answers to prayers; most as the outpouring of His undeserved love and grace in my life. Oh how He loves us.
As I pondered the words 'get to', I began seeing all these things that are in my life as a privilege.
I am a privileged child of God;
you are a privileged child of God!
I thought about all the things that I 'get to' do that many others would only dream of ...
tuck four children in to bed at night, safe and sound

clean a beautiful home that provides shelter, comfort and fun for us all

clean and bath two cats and one dog who have brought us much joy

learn from my many mistakes

prepare yummy and healthy meals each night for my family out of the pantry, not the rubbish bin

clean a bathroom that has a shower and a bathtub and products to keep us clean

do weekly shopping

just down the road and bring it home to a cold fridge and freezer

have enough provision to need to work out a budget each week

make this house a home

wash clothes in a machine and hang them out in a clean space, and put more than one set away in clean cupboards

serve, love and support a man who loves me beautifully

teach, train and equip my children in the ways of the Lord

spend many hours helping kids with homework for their future opportunities

use my voice to sing to God and be a part of our Church Music team

spend many hours studying to be able to work at a later stage in life
There are so many blessings He gives me, gives us, gives you. I pray that I always have an attitude of gratefulness and 'getting to' do these things.
Have a beautiful weekend praising God for all His blessings!
If you've missed out on the previous 31 Days of Everything Home posts, then here they are for you to read with your favourite hot drink in hand, enjoy! ...